Building a New Economy for Australia 2023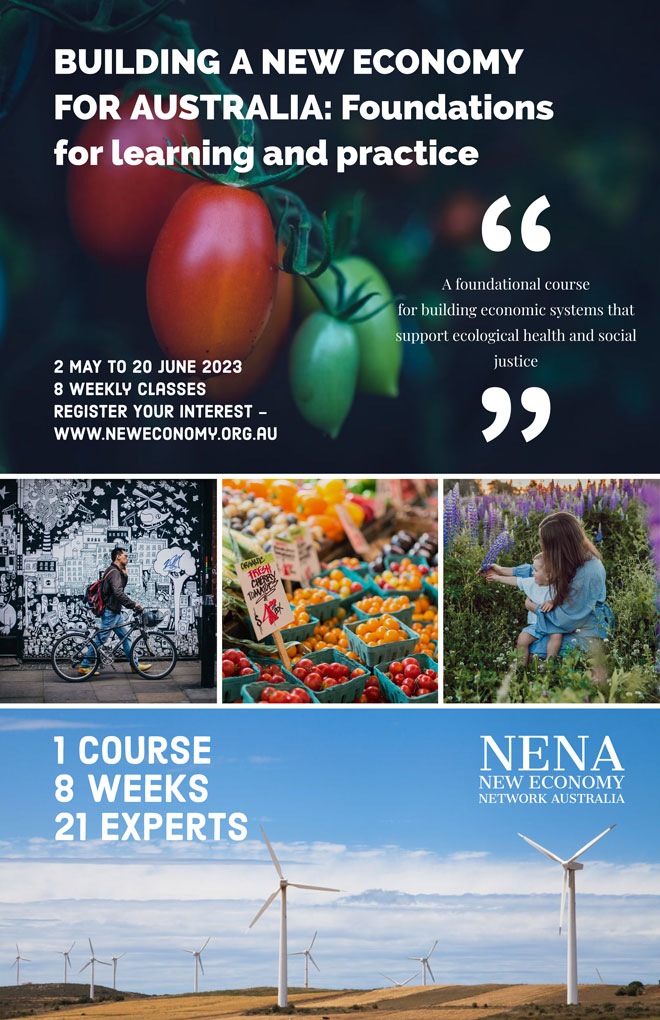 About the Course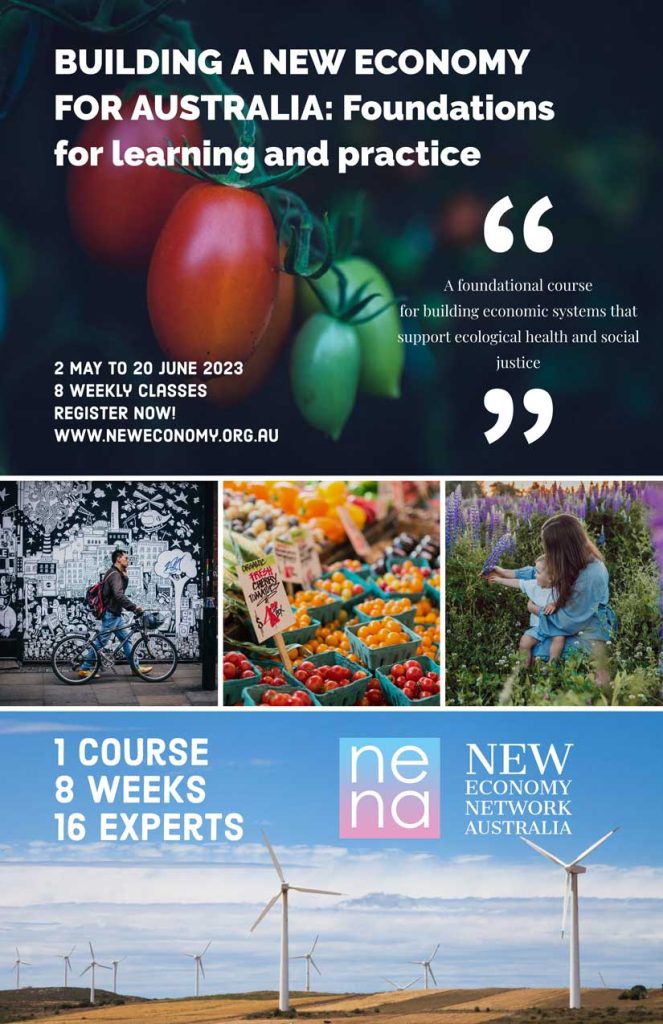 This course will offer a 2 hour 'live' class each week, for 8 weeks on a Tuesday night, from 4pm-6pm AEST (starting Tues 2 May and finishing Tuesday 20 June 2023).
Each class will include a number of expert speakers, with discussions facilitated by the course hosts.
Participants will be provided with reading, viewing and listening material, to help you prepare for each week's class. Watching and reading the set materials will help maximise your learning in the live classes.
Practical case studies and examples will be discussed each week, to enable participants to connect theory with practice.
Questions? Please email: nena@neweconomy.org.au
What you will learn
Develop your ability to analyse our current economic system from a systems change perspective
Build your knowledge about theories and practical solutions that challenge the 'business as usual' economic paradigm which contributes to social injustice and the destruction of the living world
Connect and collaborate with a network of like-minded, multi-disciplinary professionals
Engage at a personal and professional level, with a positive vision for the future
What is included?
Live online classes with Australian practitioners and experts from a range of economic sectors, designed to encourage focussed and active participation.
Access to recordings of all online classes and materials for working at your own pace.
A collection of resources (for reading, watching and listening) including real-world examples.
An optional assessment module for those seeking a certificate of completion and/or digital badge. Assessment will involve two elements: (1) a multiple choice test and (2) a written essay (or as an alternative to the written essay, a verbal presentation) addressing key issues addressed in the course.
Course content
During our 8 week course you will:
Critique neo-classical economics and learn about alternative approaches to economics, including Steady State, Ecological Economics, Wellbeing and Doughnut Economics
Be introduced to systems level thinking and approaches to creating positive change
Learn how to critique western disciplines of knowledge and think across systems
Learn about Indigenous approaches to economic thinking, including the Relationist Ethos
Explore regenerative practices and viable solutions being implemented across multiple sectors of the economy, including work, housing, energy and food
Learn how to critically engage with current and emerging trends that challenge dominant paradigms and propose different approaches
Learn how to articulate the role and significance of civil society in creating alternatives to the current economic paradigm, and in influencing government policy and global challenges
Develop new approaches to your own projects, work, and career path
Mode of delivery
All classes are delivered online (using Zoom video conferencing).
Live classes will be held on Tuesdays from 4pm to 6pm AEST (Australian Eastern Standard Time), to allow you to complete the course amid existing professional and personal commitments. Classes are informal and interactive, to enable participants to get to know each other, build connections and learn in different ways.
Each class includes the course facilitator and up to two expert speakers. Short talks will be given live in class, followed by opportunities for questions and discussions.
Resources – including reading lists and video/audio materials – will be available several weeks before the course commences, for people who would like to engage with the course materials and prepare for the class discussions.
Course cost for 8 weeks
$495 – per person, for corporate/government
$295 – per person, for community/individual
Limited scholarships are available for students and volunteers of not-for-profit organisations who need support to participate in the course. Payment plans are also available – please email us at nena@neweconomy.org.au for the details.
Assessment
Assessment is optional. For those seeking a certificate of completion and/or digital badge, NENA offers an assessment module at the end of the course.
To be eligible for a digital badge, participants must have attended a minimum of 5 out of the 8 live classes, and completed two pieces of assessment:
Assessment includes: (1) a multiple choice test and (2) a written essay (or as an alternative to the written essay, an oral presentation) addressing key issues addressed in the course.
Course Facilitator and Guest Speakers
Facilitated by
Dr Michelle Maloney, New Economy Network Australia (NENA) and Australian Earth Laws Alliance (AELA)
Rhiannon Hardwick, New Economy Network Australia (NENA)
Testimonials from previous students
This is the course I've been wanting for 10 years! I've spent a decade grappling with 'where to next?' economically, given the huge gaps in our economic systems and models, which don't value the living systems of the earth. This course addresses these wicked problems in the only way they can be addressed: collaboratively, with many voices, in both theoretical and place-centred ways. The many excellent, provocative speakers brought a range of intellectual disciplines, frameworks, skills and experience to bear on the critical issues of this moment. I cannot recommend this course more highly to anyone wanting to stretch their thinking and expand their communities to create new ways of material being in community on this earth.
This short course was such an enjoyable journey of connection for me- with such wisdom and heart, from not just the presenters but the other fellow journey makers. Each module and each conversation helped create a richer tapestry from where emergence can unfold. 

I live on a rural family farm where we have a passion for creating community and working with natural intelligence. So many big ideas have felt to fall on mute ears over the years, but this course has helped to create both an energetic and practical emergent framework for our larger vision. I am sure it will do that for others who enrol.
Canada (Turtle Island) is facing many of the same rapidly developing ecological, economic and social challenges being experienced in Australia. NENA's short course provided a bedrock of understanding from historical root causes to current potential solutions at both local and global levels. This is an essential course for anyone who is attempting to respond to real world problems. With the excellent learning materials, the expert facilitators and a weekly discourse I gained more confidence and a clearer systems perspective on where the inter-related levers of change need to be applied in the scope of my work.
Course Content
Course Introduction and Zoom Links
Introduction and Zoom Links
Week 1: Introduction to Economics
Week 2: Creating Systems Change
Week 3: Social Justice and Decolonising the Economy
Week 4: Ownership, Property & the Commons
Week 5: Work, Business & Universal Basic Income
Week 6: Housing – affordability, availability and sustainability
Week 7: Energy – fossil fuels, renewables, demand and efficiency
Week 8: Food – systems change and regenerative agriculture + conclusions and course wrap up
Assessments (optional)
We need your feedback! NENA SHORT COURSE SURVEY